Drum Hits Big Collection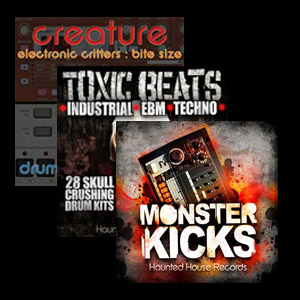 Available as a digital download for £14.99 direct from Haunted House Records


Product Description
Haunted House Records is proud to present the ultimate drum samples collection featuring 3 of our Drum sample libraries in 1 bumper value pack.
The Drum Hits Big Collection contains drum samples and drum kits from Monster Kicks, Toxic Beats, and Electornic Critters : Drum Hits Collection.
You get all this for £14.99 saving over 50% of the original value. This truly is an excellent value and very high quality drum hits collection.
The drum samples in this library are either sourced from vintage drum machines or are synthesized from scratch. Each drum sample has been processed using a high end dsp signal chain to offer some of the best crispy kicks and drum sample sounds out there.

This library is ideal for any genre of electronic music from Tech House and Electro Music, Minimal and Techno, through to chill-out and industrial. There is something for everyone from Crispy Kicks to Snappy Snares and Rasping High Hats.

This collection contains:
865 x hits from drum hits collection.
310 x hits from Toxic Beats.
164 x Kicks from Monster Kicks.
1339 Hits in total.
32 x Assembled Kits from Electronic Critters : Drum Hits Collection.
28 x Assembled Kits from Toxic Beats.
60 Assembled Kits in Total
Audio Demo Song.

This demo features 62 drum hits from this bumper collection of electronic drum hits.

Also available from



Terms and Conditions
Please view our standard Terms and Conditions for the purchase and license of this sound effects library.