Dirty Electronics 2 : Experimental Airwaves Loop Library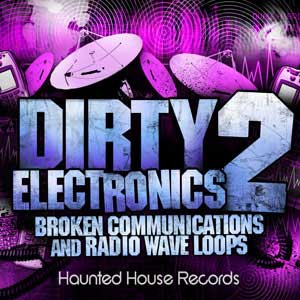 Available as a digital download for £19.99 direct from Haunted House Records


Product Description
Dirty and destructive synthesis combines with aircraft interceptions and radio frequency treatments to create 343 filthy riffs, degraded dronescapes, bit-crushed communications and more.
Top secret radio and data transmissions, including voice, machine and scrambled signals from aircraft beacons and re-pitched satellite communications are mangled, mashed and processed to create insanely textured and gritty loops laced with distortion: perfect for all forms of electronic dance music: add texture to cinematic electroscapes, nasty noise loops to a industrial techno bruiser or cut chop or sidechain in add depth to electro or breaks stormer.
Dirty Electronics 2 comes with all loops tempo-labeled (120, 128, 130, 135BPM) and each sound is provided with six unique variants, giving you a host of creative possibilities in your next electronic production.
All samples are provided in 24bit 44khz to ensure the highest grade sonic quality.
All sounds supplied in 24bit 44Khz Wav files.
340 High quality processed circuit bent loops.
Audio Demo Song.

Download 20 samples from this collection of twisted transmission loops..

Also available from



Terms and Conditions
Please view our standard Terms and Conditions for the purchase and license of this sound effects library.