Electronic Critters Big Pack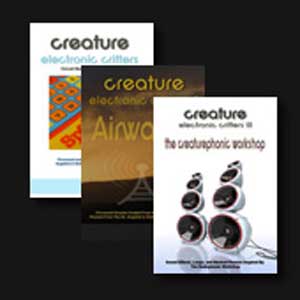 Available as a digital download for £34.99 direct from Haunted House Records


Product Description
The Electronic Critters Big Pack is a great value collection featuring the full Electronic Critters, Electronic Critters : Airwaves, and Electronic Critters : Creaturephonic Workshop libraries.
This bumper collection contains lots of raw and processed sample from circuit bent childrens toys such as the Speak & Spell and the Furby.
If you are keen to learn a little more about Circuit Bending then you can read our article called ' The Art of Circuit Bending '.


This sound effect collection provides both raw circuit bent material and edited and processed versions which create some very sick and twisted textures and soundscapes.


This multi pack collection also contains lots of twisted and manipulated radio frequency sample which have been plucked from the air using a state of the radio frequency scanner.
Audio Demo Song.

Download 20 samples form this collection of circuit bent and processed samples. This demo pack is 47meg in size..

Also available from



Terms and Conditions
Please view our standard Terms and Conditions for the purchase and license of this sound effects library.