Electronic Critters : Creaturephonic Workshop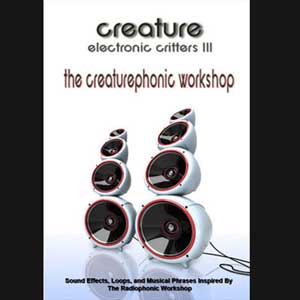 Available as a digital download for £19.99 direct from Haunted House Records


Product Description
Prepare your eardrums for an FX injection because after six months in the making, the follow up to the acclaimed Electronic Critters series, Critters 3, is here boasting more than 4GB+ of fiendish sonic manipulations derived from field recordings, radio interference, ultrasound, theramins and more.
Inspired by the early work of the BBC Radiophonic Workshop, Critters 3: The Creaturephonic Workshop takes raw sounds and then reprocesses, modulates and chops them up to create other-wordly electronic vibrations. The pack is ideal for film and TV producers – as well as those seeking FX for ambient, leftfield or all kinds of dance tracks.
Ambient Textures
103 sound effects split into 22 different groups. Alien rumbles, twittering robots, wailing banshees and many more insanely creative waveforms.
Loops
126 loops split over three bpm ranges (100bpm, 125bpm, and 140bpm). Rhythmic twitches and gurgling glitches. Syncopated sonics to take your beats to another planet.
Musical Phrases and Sound Beds
140 sound samples split over 29 groups. Perfect as a starting point for music in TV and film or mind-expanding hooks in IDM.
Source Material
Source recordings used in the construction of the collection. There are 313 sounds broken into the following folders: field recordings, outside ambience, household objects, thumb piano, radio frequency scanner samples, theremin phrases and ultrasound doppler.
Audio Demo Song.

Download 11 samples form this collection of experimental sounds inspired by the legendary BBC Radiophonic Workshop. This demo pack is 80meg in size..

Also available from



Terms and Conditions
Please view our standard Terms and Conditions for the purchase and license of this sound effects library.